Despite the fact that it has something like 9 or 10 months since I last updated here and I feel somewhat removed from this blog, I'd rather spit out the last few posts or so this place deserves even if no one is still reading. Regardless of how long it has been since I was in Holland. This post I've been sitting on the longest and I'm really glad to finally finish it up.
I've kept this down to five tips because everyone is different. Every family is different. Every au pair experience is different. I didn't want to get too specific with the dos and don'ts, but I did want to at least provide specific or thorough exposition for each point.

Tips that did not make this list but I'd like to share as friendly recommendations: make friends that are not from your home country, take a class or join a gym to give yourself some structure of your own outside of the structure of the family and your responsibilities to them, travel often on day trips or weekends, keep a journal even if it seems silly to record things you did during the day or temporary thoughts you had, and this might be too much of an opinion and definitely depends on the person/scenario but do not prevent yourself from becoming romantically involved or become very close friends with someone in your host country even if it not a serious relationship. Overall, don't cheat yourself out of experiences with the reasoning that it doesn't matter because you're just there for x months. If anything that should be reason enough for you to embrace everything that comes your way because when will you ever have the chance to do something or be with someone in the way you only can that very moment? Let's take it from over-used Einstein for this one, shall we?



(1) Do not become an au pair without a contract between you and the host parents.
I think my experience is enough to back up this point. You absolutely need a contract with your host family. It may sound absurd because as you grow to like them in your correspondences you'll probably feel like skipping that business-like step and prefer to deal with them on more familial terms. I definitely recognize the value of becoming a part of a family. That is what I sought from the very beginning of my search. However, I think a contract is still necessary. Circumstances can change. A contract not only protects you but it protects the host family as well. It is beneficial for both parties. The contract should outline the maximum number of ours you will be "on duty" each week. The stipend you will receive monthly or weekly. The number of vacation days you will receive and the stipulations about requesting dates off or taking a sick-day. It should also indicate the chores for which you will be responsible aside from general child care: laundry, cooking, vacuuming, ironing, etc. Other rules such as curfew and having friends over should be discussed and agreed upon even if they might not end up in the contract. Foremost, however should be a start and end date. When I flew over to Holland we did not have a set date of when my time would be up. We said we'd see how it felt after x amount of weeks or days. I think initially we said three months or six months. So when it came time for the six months to be up the simple task of agreeing on the date of my exit was exhausting and it ended up being the date that they wanted, not me. I had to let that go and I think Anna was still upset that she had to take time off work before the holiday to "cover" for me.


(2) Before you make any travel plans, make sure you have all the documentation you will need aside from your passport. This includes the proper visa, residence permit, or whatever your host country requires by law for you to have in order to live/work as au pair.
I know au pairs who did not have anything other than their passport but were never "caught" for not having the proper visa/permit. I know it happens but for the sake of your safety and the quality of your experience, I would consider this "visa free, hassle free" scenario a complete fluke. I was very lucky not to have to pay a hefty fine or even spend a night in jail (I know someone who did) before being exiled from the country. Please take this not as a strong warning but as a priority.

(3) Make lists.
This is not on this list just because I'm a list-making person. It will only benefit you from the moment you decide you want to become an au pair if you make at least one list. Before you even begin contacting families, I highly recommend making a list of the top three countries you'd like to live in and write very clear reasons why. Don't be vague. Then make a list of 5-10 qualities you'd like in a host family. The number of children you're comfortable caring for and the age range is a good place to start. This list will be especially helpful when you start conversing with potential host parents. They require specific qualifications from the person they'll take in as their au pair and so should you when you accept an offer from a family. Also, these lists will be the guides from which you can make a list of questions you will ask in your correspondences. I am not saying that you must find a family that absolutely fits all the criteria on your list but it will certainly help you filter potential families while staying on track for what you want and feel is right.

(3) Contact a potential host family's previous au pair(s).
My host family's previous au pair emailed me once or twice before her time with them was finished (she wanted to return to the US to begin graduate school) but I should have paid more attention to the fact that once I was there and tried to contact her about how she met people, what she did on her days off, and so on, she never replied. On the flip side, when Robin and Anna starting looking for my replacement I skyped with one of the candidates and was faced with the difficult scenario as she asked me questions. Do I tell her the facts or give her more information about how uncomfortable I had become? I don't know that I ever would have gone so far as to outright recommend to her that she not become their next au pair, but I struggled with the pros and cons of being honest and that was incredibly difficult for me. I always thought honesty is the best policy and sometimes that was one of character flaws but what was I willing to do for myself and for someone who could possible be put in the exact same position as me? I didn't want anyone to be put in my situation but at the same time I wanted Robin and Anna to find a replacement so I could leave. An au pair should never have to make that kind of decision. I was never contacted by whomever became the next au pair after me. She didn't ask for my email and I have no idea what her experience is/was like for that.

(4) Require pictures.
This seems like kind of a no brainer but it is on this list for good reason. If you're using an au pair matching website to find a host family, all the profiles will have a few pictures. But when you start corresponding with a family ask for more pictures. A lot of pictures. Ask for pictures of the whole family, of the children, and of the house. Robin and Anna sent me great pictures of all the main rooms of the house and the back patio where the children frequently play. All of the pictures were 100% accurate to reality. However, I did not ask for and they did not send any pictures of the room that I would be staying in. Their previous au pair told me something along the lines of it being very spacious (she cited that fact that she was able to do yoga in it and that was important for me) and private so I trusted her. She was right. It was spacious but it was also on the side of the house with one small window angled at such a way that it really only got sunlight for an hour or so each day (and none during the winter.) It also was not connected to the rest of the house's central heating. There was a furnace heater beneath the window that I was forbidden from turning past heat setting 1 1/2 because it was expensive. So my room was freezing. I am not exagerating. I wore gloves and sweaters layered over a sweatshirt when I was in my room. And I'd dress in the morning under the down comforter. It was spacious but there were a lot of random things stored in there like a folded up treadmill and an old vacuum. It did not feel like a bedroom. It was a storage room with a bed in it. I remember the first time I visited my friend Annina's host family's apartment and saw her room I was jealous. It was a tiny room but I would rather sacrifice space for ambiance. It was decorated, clean, and clearly designated at their au pair's room.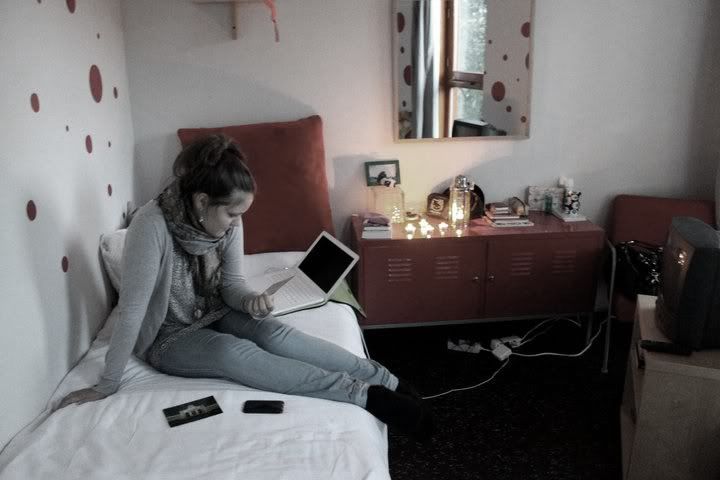 (4) Be yourself.
Am I pointing out the obvious? "Be yourself" is a phrase that seems to have become trite or even ironically forced. But it really is one of the best tips I think I can give you because think of it this way: if you're seeking the au pair experience then you are seeking a new and challenging experience. You should be aware that your personality and your values will be challenged. Whether that is a positive or negative experience is entirely up to you. You're immersing yourself in a different culture, possibly a different language, and within that culture you're transplanted into a family that is going to have it's own values, dynamics, quirks, and way-of-life. Stereotypes are rampant in these type of scenarios. Do not stereotype your host family and do not let them stereotype you. From the very first email or phone call it is very important that you be yourself. As you get to know the family, let them get to know you. They will have flaws that you will have to learn to accept and you must allow them to understand yours as well. If this becomes an issue then compromising will be the best tool even if it is tough. (Most of the time no one wants to compromise their beliefs or anything personal.)

More than halfway through my time in Holland, Robin made a comment that he prefers American au pairs because they always say what is on their mind. I'm well aware of the loud-mouthed stereotype Americans have and I'm well aware of how I do not fit that in the least. When he made that comment to me I wasn't sure if he knew that I was not like that - that I did not always say what was on my mind - or if he was saying that because he knew I wasn't saying something that was on my mind. I'm more reserved than the American stereotype might cast me. (Not necessary shy, mind you, but reserved.) I'm certain there are merits Robin and Anna recognize in American au pairs and I appreciate that they know what works for their family, but I was not certain that they could get past that to recognize the merits of an individual. When I visited Sweden part of the reason I felt so at home was because my personality fit so well with the culture there. (And I'm not just talking about fika.) I was surprised because I thought the only way certain aspects of myself would be revealed was if I was taken completely out of my comfort zone.

Despite seeming to buy into the American stereotype, Robin did recognize something about me I was not entirely aware of. One morning when we were taking Roeland to school, I stopped and waited for a van to back out of a driveway into the one-lane street and Robin told me that I was "too good for this village." That no one around there would have waited. He said something similar before that as well when we were at the playground with the children and Roeland asked me to go get his plush kicker because he forgot it in the car. I went to get it and Robert told me that I am "too good for this world." I had been thinking about that a lot before those instances - how I felt I bent over backwards sometimes so I did not displease them. How I worried constantly that I might do something wrong. Most weeks I would leave to join my friends in Amsterdam as soon as Robin got home from work on Fridays. Before he even made dinner. At first I felt bad to bail out at my first chance. From the impression that my potential replacement, an au pair from the UK, made when she visited one Sunday (she was texting on her phone all the time and didn't even try to play or talk to the children) I could tell she would not be as attentive or conscientious as I was and would hardly live up to the expectations that Robert and Andrea had. It probably worked against me that I was so eager to do everything right because that could be easily taken advantage of at a cost to my own happiness.


Ruben and his kicker, who has obviously seen better days.

(5) Do not take things personally.
The fact that I'm including this on the the list is kind of a big deal. Even though this was probably one of the biggest lessons I learned from being an au pair, it was the hardest for me to accept. If you've read tips 1-4 hopefully this last one will make sense. I allowed myself to feel hurt and sometimes even personally slighted when things with my host family did not go the way I expected or even hoped. I took comments Anna or Robin said to me very personally. As a result, I think I became too wrapped up in that and missed out on small opportunities while I was there and shorted myself to an extent. I'm not one for having regrets. What is done is done and it is a waste of time to even think about what could have or should have been done, but moving forward I now know not to dwell on certain things or to take everything so personally. I know I was very hard on myself when I was there. I should have cut myself some slack for, say, the one time I left water around the bathroom sink and Anna pointed that out to me, complaining her pajamas got wet when she leaned over it. One time out of how many nights I washed my face and brushed my teeth. I'm human.

I've touted before about having choices but allow me to bring it up again: we also have choices about how someone else's actions or comments make us feel and how we react. One example that comes to mind was a day when Anna was home from work for some reason or another and she came with me when I went to pick the children up from school. We drove to Rosa's school to pick her up. In the shuffle of having Anna there somehow Rosa's beloved stuffed purple olifant was left behind. We did not realize this until we were home and Rosa went into hysterics. I think I had assumed Anna thought to grab it or make sure it was there because she had gathered Rosa's things at school. And I'm sure Anna assumed I would do it since it was routine for me to pick Rosa up from school anyways. Whatever Anna said to me in the heat of Rosa's tantrum, which she probably did not mean to come off harshly, hit me really hard and like the perfectionist I am I beat myself up over it. How could I have been so thoughtless? Later that night, while skyping with my mom about it, she told me that as much as I care for the children I've never been a mother before. I haven't had years of practice and certain habits are not as naturally ingrained in me yet after only a few months with the children. She recalled a time when she had made a similar lapse of thought with me when I was little, when she was a brand new mom. As attentive as I was, I just did not have the experience that a mother has at that point in her children's lives. Later on, though, it was still hard for me not to take it personally when Anna vented about how unreliable au pairs are when the girl they thought was going to be my replacement cancelled on them just as I was about to determine when I'd be going home. I took that personally. How can she say au pairs are unreliable!? I've been nothing but since the day I arrived. Not one sick day. Not one major catastrophe.


Rosa, her oliphant, and one of her many plush Hello Kitties.

As an au pair, you'll just have to let a lot of things roll off your back. You have to have thick skin but you still have to be very acute to how your host parents want things to be done and what not. And just don't be afraid to ask questions if you're unsure of something. I did not do that enough.